Selection of guides for stamping dies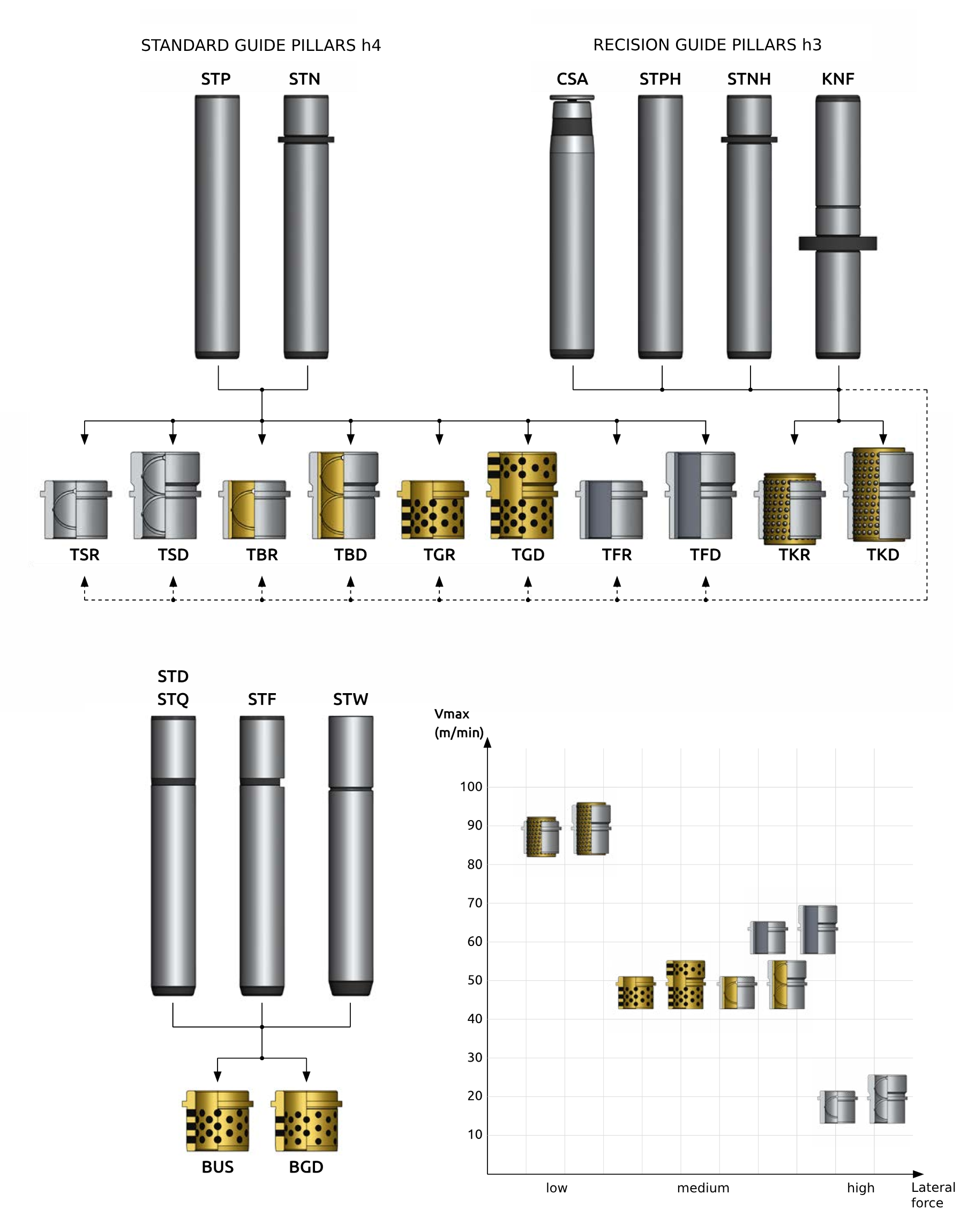 Steel guide bushes TSR / TSD / TSK
Steel guide bushes may be used everywhere high and especially lateral force appear. Due tu high friction on contact surfaces this type of guiding is recommended in applications where speed doesn't exceed 20m/min. The bushes require constant lubrication. Grease or oil can be supplemented to spiral grooves through a grease nipple located on the sleeve flange.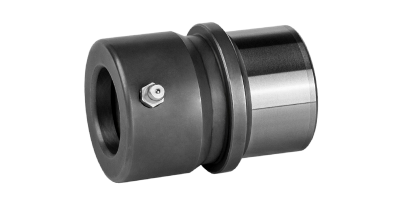 Guide bushes with bronze inserts TBR / TBD / TBK / BEB
Guide bushes with bronze inserts are composed of a steel external sleeve with centrifugally casted bronze insert. The insert has spirally made grooves to ensure constant and even distribution of grease, which can be supplemented through a grease nipple located on the sleeve flange. Thanks to the centrifugal casting process, the bronze layer is thick enough that even in case of high wear the steel part doesn't come in contact with the guide pillar, preventing it from damage.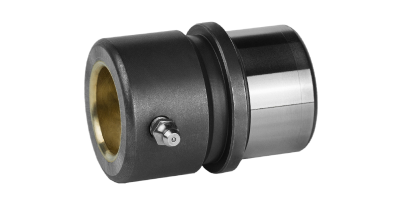 Self-lubricating guide bushes TGR / TGD / BUS / BGD
Self-lubricating elements are used wherever excellent sliding properties and a long life of the component are required. They work well both in rotary and in linear applications. The raw material used in self-lubricating parts is bronze or steel, which provide excellent mechanical properties, and graphite impregnated with lubricant. During the initial work stages, due to friction with the contact surface the lubricating agent releases gradually, creating a film which ensures slip in further cycles. Depending on type of the element, the graphite contact (sliding) surface amounts to between 25% and 35% of the total working surface. Under the recommended operating conditions, the self-lubricating components don't require any maintenance.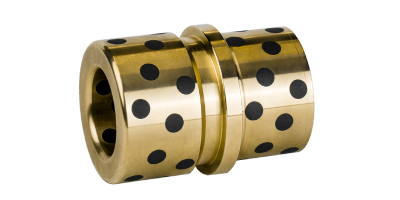 Guide bushes with sintered ferrite insert TFR / TFD / BFD
Precision guide bushes with sintered ferrite insert are composed of an external steel sleeve with sintered ferrite insert tightly pressed in. The insert has a sponge-like structure with surface porosity up to 20%. At the final production stage the pores are being saturated with oil in vacuum chambers. Under the influence of temperature the oil gradually flows out creating a friction-reducing film. Additional lubrication is only possible with recommended lubricants. Using grease other than recommended causes pore-clogging. The guide bushes with sintered ferrite inserts can be successfully used in high speed tools and with extreme loads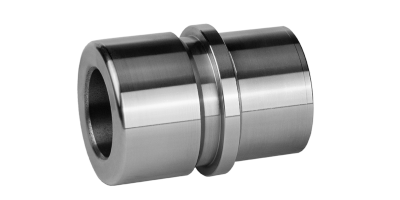 Ball bearing guides TKR / TKD / TKP / TKK
Unlike the other types, in ball bearing guides the sliding friction phenomenon doesn't exist. The movement resistance mainly results from rolling friction which is significantly smaller. Ball cages are made of a brass sleeve with balls firmly fitted in its cavities. Thanks to the appropriate guide and bush tolerances, a "preload" effect appears, eliminating any guiding clearance. Low friction and a lack of clearances recommend ball cages to be used every time when high precision and extreme speeds are required.
Bush type
Bush code
Recommended
class of pillars
precision
Type of
guiding
Max.
speed
Type of lubricant
Application
Steel
with oil grooves
TSR, TSD, TSK
h4
slide

20 m/min

<12 m/min – grease
>12 m/min – oil

General purpose, die casting molds and for rubber, die-sets and injection molds. Intended for short production series.
Steel
with bronze insert
TBR, TBD, TBK, BEB
h4
slide
50 m/min
<30 m/min – grease
>30 m/min – oil
Die-sets, injection molds, machine parts.The most common guiding type.
Bronze
with graphite inserts
(self-lubricating)
TGR, TGD, BUS, BGD
h4
slide
50 m/min
<30 m/min – dry
>30 m/min – oil or grease
Die-sets and injection molds, general purpose machine parts. Applications with limited access to the sleeves (no regular lubrication).
Steel
with sintered ferrite insert
TFR, TFD, BFD
h3
slide
60 m/min
<30 m/min – dry
>30 m/min – oil
Bearing guides are used where slide guides are insufficient due to lubricating problems (e.g. highspeed presses, short strokes and precise, play-free longitudinal guides).
Steel and
ball bearing
TKP, TKR, TKD, TKK
h3
roller
60 m/min
oil or grease
Blanking dies and other tools with very high working speed. Applications that require high precision.